The
career

You Deserve

Critical thinkers, world-altering coders, marketing wizards and strategic hands-on people: Welcome! Five Jars is always on the look-out for new experts and bright talents to join us!
The Five Jars way of working
Five Jars is a people-first company. We were founded with the aim to create a new and innovative alternative to the conventional companies out there. And we did! Our team works independently and creates the most innovative solutions in a transparent and efficient manner. Our management team trusts each and every team member to make the right decisions and gives a great deal of freedom to everyone.
Our global footprint is a challenge but one we mitigate by organizing trips to meet each other regularly. Five Jars believes that work is not the only thing that makes life amazing. That is why you can work from any country. Do your children have a school theatre piece you want to watch? Great! Don't ask, just go and enjoy. We know you'll come back happier, more balanced, and more motivated. That's what our clients want – and you!
Long story short, Five Jars is only as good as the team. And the team is everything for us.
Image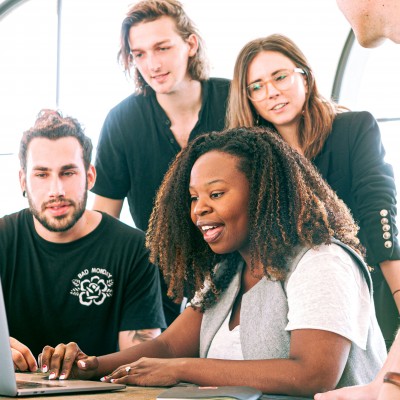 Haven't found any vacant job catching your curiosity?
Do not worry! Things change fast at our end, and we are always looking for a potential fit for our next open role, even if we don't know precisely when that will be. To get yourself on our talent radar, drop us your CV and a few words about your experience, and we will get back to you with suitable job openings.