In essence, Drupal is a remarkably scalable, customizable, robustly secure, and cost-efficient Content Management System (CMS) designed to empower everything from modest blogs to colossal web portals. 
FOR CONTENT CREATORS
Drupal delivers an outstanding experience through its Layout Builder, Views system for content listing and filtering, intricate Content Workflows, and a comprehensive Roles & Permissions system that manages access to various site features. It's not just about functionality, it's about fostering creativity and content control.
FOR ENGINEERS
Drupal is a treasure trove of internal APIs, designed with scalability, performance, and extensibility in mind. It provides a powerful and flexible framework that empowers developers to create robust and complex web applications. With its modular architecture, Drupal offers a solid foundation for building high-performance websites.
FOR SITE BUILDERS
Drupal offers a staggering selection of over 40,000 modules, each providing a unique functionality that can effortlessly be integrated into your site. It's not just about site building, but about crafting an experience, a digital ecosystem that responds to your unique needs.
The Power of The Open Source
Since its inception in 2001, Drupal has quickly grown into one of the largest open-source communities in the world. This community forms the backbone of Drupal's competitive advantage, setting it apart from proprietary solutions:
Security
As an open-source platform, hiding malicious code is virtually impossible. The Security Team ensures regular updates to the core and modules, constantly enhancing their security. As a result, a mere 0.6% of all infected websites in 2022 were Drupal sites.
Ownership Cost
Being open-source, the cost of software ownership and maintenance is distributed among tens of thousands of contributors. Individuals generously dedicate their time to provide patches and updates to the core and individual modules daily.
Community Support
If you encounter difficulties during Drupal development, you are never alone. The chances that another community member has already resolved your issue and shared the solution are high. Similarly, any fix made on your end can be sent back to the community - again, reaping the benefits of shared ownership costs.
Rapid Innovation
Open-source platforms foster innovation. The sheer number of brilliant minds working with the software continually refine and improve it, often inventing revolutionary approaches. Among the open-source community, you'll find some of the brightest engineers of our generation, who are constantly finding better mousetraps.
Developer Unity
Beyond commercial development, over 10,000 individuals contribute to the Drupal Project daily - by providing fixes and updates, designing and implementing new features, and enhancing their security. Since Drupal 9, over 4,000 changes were committed to Drupal Core alone. These contributions came from 2,129 different people and 616 unique organizations over the last 2.5 years - and that's just for Drupal Core!
We've experienced Drupal's power firsthand. Our contributions span over 70 projects, hundreds of modules, and thousands of hours of work that we've shared back with the open-source community. We've attended numerous Code Sprints, co-organized and participated in DrupalCamps and Drupal Cafes, and visited, participated in, and loved dozens of DrupalCons.
Industries choose Drupal
23.8%
of universities worldwide chose Drupal to power their Web presence out of over 100 CMSes.
56%
of government websites, including the White House and NASA, are built on Drupal.
20%
of non-profit organizations choose Drupal for their websites.
CMF, not just CMS
An important yet often overlooked fact about Drupal that's worth mentioning is its initial intention was to be a Content Management Framework. This means that at its heart, Drupal isn't just coding that performs a single function. Rather, it's an elegantly designed collection of subsystems and internal APIs that work in harmony to enable the construction of superior digital experiences. In layman's terms, it serves as a toolbox full of wrenches, nuts, and bolts designed to help you build potent websites, expand your business, and do it cost-effectively.
Modular architecture

Drupal has a vast array of easily configurable modules that add diverse functionalities to a website. This allows users to customize their site to meet their specific needs. Proof? 4,846 modules are available for the latest Drupal 10 and an additional 21,585 for Drupal 8 and 9.

Not only API-first

Drupal is primed for growth, serving all content and capabilities to mobile apps and front-end applications right out of the box. Additionally, it features a modern Content Editing UI and can serve content itself.

Flexible & Shiny

Drupal's templating system, powered by Twig and also known as  "themes," coupled with the Layout Builder, allows users to easily customize the appearance of their website. There are also many pre-made themes available for Drupal.

Built for Scalability

Drupal is suitable for both small and large websites, and can easily handle high volumes of traffic

Multilingual support

Drupal includes built-in support for multiple languages, simplifying the creation of multilingual websites.

Accessibility

Drupal is compliant with web accessibility standards and includes features that help in the creation of accessible websites.

LOOKING FOR A TECHNICAL CONSULTATION?
WHY CHOOSE US
Wondering why you should hire Five Jars when using an open-source CMS? Fair question! There are several reasons why hiring a developer might be advantageous. First, Drupal is a complex platform that demands a certain level of technical expertise to work effectively. Our team brings a wealth of Drupal experience to the table, offering invaluable knowledge and skills to ensure your website is built and configured correctly. Furthermore, we can tailor Drupal to meet your specific needs and requirements, from custom functionality to design. Finally, our developers ensure legal compliance and follow all best practices. Overall, our team offers high efficiency and the ability to cater to your unique requirements.
EXPERIENCE
Our team has extensive experience building websites and web applications using Drupal among other tools. Our extensive knowledge and hands-on expertise helps us determine the best approach for each project and allows us to deliver solutions efficiently.
EFFICIENCY
We prioritize a swift timeline. Our interdisciplinary teams with diverse expertise provide comprehensive solutions that address our clients' needs. Our refined development processes guarantee the delivery of high-quality results in a time and cost-effective manner.
FULL-SERVICE AGENCY
As a full-service agency, we offer UI/UX design, marketing, development, and programming. Our track record incorporates partner needs, delivering tailored solutions. With expertise in diverse services, we ensure success for our clients through comprehensive and customized approaches. 
Looking for seasoned Drupal development services? Get in touch with us and discover how we can assist you in building your Drupal website with precision and expertise.
OUR AWARDS
Five Jars has been performing at the top for many years. Our recipe for retaining the #1 position? Partnering with our clients and providing client-centric solutions. It's that simple.
TOP DRUPAL DEVELOPERS
TOP DRUPAL DEVELOPERS

TOP DRUPAL DEVELOPERS

TOP DRUPAL DEVELOPERS
BEST DRUPAL DEVELOPERS
TOP DRUPAL FIRMS
Drupal Community & Events
Moreover, we believe that sharing knowledge is a crucial part of contributing to the community, so our team consistently participates in both international and local Drupal events. Here are some events we have attended and even had the privilege to speak at: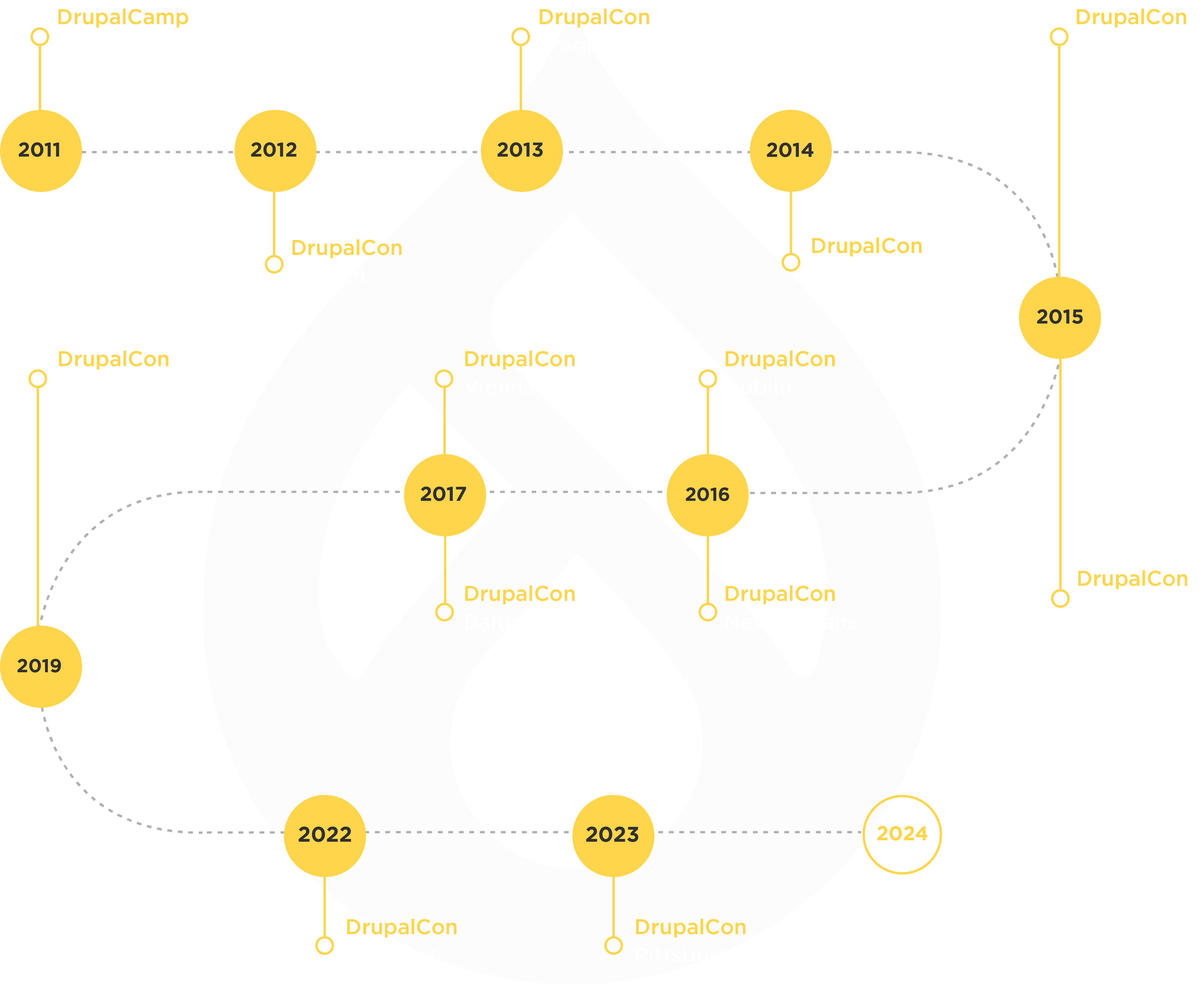 Drupal Experience & Contributions
Our journey with Drupal began in 2008, starting with version 5. Since then, we have created thousands of Drupal modules and launched hundreds of projects, continuously growing our knowledge base and staying ahead of all changes within the Drupal Community.

We recognize the importance of giving back to the Drupal community. Drupal affords us incredible opportunities to deliver high-quality solutions to our partners. Open source technology allows anyone to get involved in the creation of new ideas, making the community more dynamic and our technology smarter, faster, and better. That's why we are constantly giving back to the Drupal community.
HOW WE WORK

As a leading provider of Drupal development services, we maintain a global presence. As a full-service agency, we're equipped to meet all of your Drupal development needs and offer you a truly unique experience. Here's a look at our process:
PROJECT KICK-OFF
We conduct an initial evaluation of your Drupal development project, gathering the necessary information to estimate the budget, timeline, and team composition.
PLANNING A PROJECT
Our project manager aligns the team on the deliverables and outlines the project roadmap using agile methodologies. We also establish a communication tool and style tailored to our partner.
DELIVERING A PROJECT
Our team works towards the successful completion of the project, delivering preliminary results and progress reports weekly. This helps our teams remain in sync with customer expectations and adapt to any changes.
SCALING UP THE SOLUTION
Upon delivering the Final Drupal solution, we ensure that you have everything you need to scale your product globally. This could include SEO, multilingual capabilities, or infrastructure-related requirements, depending on your project needs.
MAINTENANCE
After the release, we allocate members of the team to monitor the application and address any issues. We provide comprehensive documentation to ensure a seamless handover of the Drupal solution.
SUPPORT
While we are more than happy to offer ongoing maintenance and support if desired, it is not a required service. Our support team is available to assist you with any questions or concerns you may have regarding the Drupal solution, ensuring that you have continued access to expertise and guidance.
GET IN TOUCH WITH US
Eager to evaluate whether Drupal is the right fit for your project, or if another framework or tech stack would be more suitable? Hit us up and schedule a call with our project managers.
Schedule a call with Kristina to learn how our digital solutions can help you cut costs and increase revenue.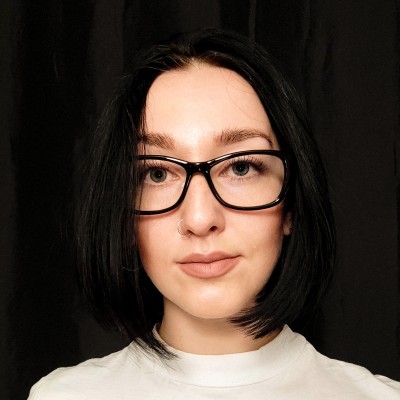 Kristina
Business Development Manager