Council for Exceptional Children
Stunning and consistent website for the premier association for special education professionals
The Council for Exceptional Children (CEC) is the largest professional association of educators focused on advancing the success of children with exceptionalities founded in 1922. CEC is the leading place for community and resources in special education and is well known as a source for information, resources, and professional development for special educators.
+26%
Page views per session
Increased page views per session by 26%
+21%
Average session time
Increased average session time by 21%
-8%
Bounce rate
Lowered bounce rate from 61% to 53%
+7%
Number of users
Increased number of users by 7%
+15%
Number of new users
Increased number of new users by 15%
+33%
Number of sessions
Increased number of sessions by 33%
Website Design
Five Jars performed a digital transformation of the CEC brand. We started with a website redesign to upgrade and update the CEC site and improve brand consistency. 
To begin, Five Jars conducted a preliminary assessment of the existing digital solutions and Google Analytics to understand the user experience on the site. 
Following the discovery phase, we outlined the project with the following goals:
Provide a more engaging, positive experience for visitors to our website
Improve navigation menus and page organization across the site
Make the overall site more dynamic, visually appealing and mobile-friendly
Make the website more current with the latest 508 compliance standards
Improve overall brand consistency
Build a platform for hosting 70+ microsites
We went through the design phases, starting from a review of competitors' websites and conceptual sitemap creation, followed by responsive wireframes and mockups. After successfully achieving the primary design goals, we had the fresh, robust, and appealing look & feel our client desired.
Improved CEC brand consistency
Improved website navigation
Made mobile-friendly website
Implemented component-based design
Migration to Drupal CMS
After the discovery and design, we focused on the migration from Sitecore CMS to Drupal CMS. We used innovative technology to create the best online experience for end-users and site administrators alike.
Five Jars built an intuitive website with an easy-to-use interface that allows members, program participants, families, prospects, to complete their tasks quickly and efficiently regardless of the device they are using. We delivered the highest-quality Drupal website by following rigid coding standards and applying Drupal best practices. 
We've chosen Drupal CMS as a world-leading CMS with the ability to scale and make complex digital experiences our forte. We've built the hierarchical template page structure, robust tagging system to increase session duration and engagement. The templates with Drupal's layout builder feature allowed to make CMS user-friendly and easy to use.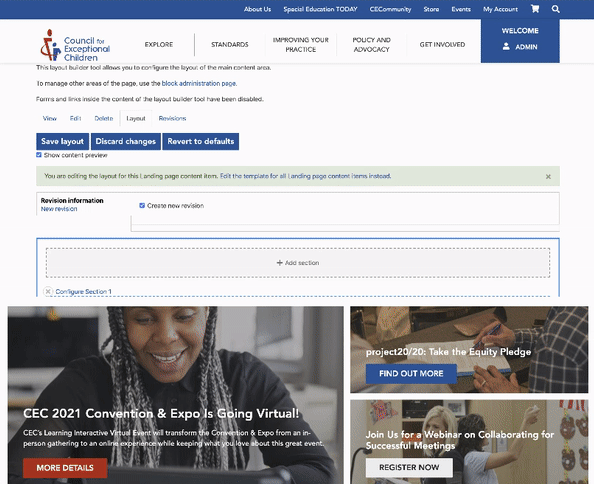 Core features center around ease-of-use, flexibility, ongoing stability, established information architecture, and hosting environment. The CMS also features plug-in applications and modules that enhance the functionality of the website. We performed SEO optimization, accessibility enhancements, cross-browser testing, load and performance testing, and security audits according to our best practices.
Improved content management experience
Established setup of templates and components
Created a robust tagging system for topics
Membership, Single Sign-On, and integration with iMIS
Membership and availability of information and pricing are essential features for the sales pipeline, so we completely redesigned it to make it straightforward and increase awareness of CEC membership types, benefits, programs, services, and capabilities of different membership types.
We implemented Single Sign-On with iMIS for a store and multiple other systems to provide a seamless experience, provide an optimized path to transacting with the CEC, and connect various technologies with a single entry point.
Simplified purchasing journey
Make Join page responsive
Connected multiple websites through the single entry point
Streamlined membership purchasing journey
Store
CEC's crucial feature was a store with books, eBooks, journals, and other printed materials. The new store experience that we've designed and built helped establish a pleasant and delightful experience for all users by making it easy for them to quickly find what they need and complete their desired tasks/transactions rapidly and efficiently.
Now website visitors can find books, eBooks, laminated guides, specialty items, and recent issues of the CEC journal, CEC publications, plus a wide range of curated publications from other publishers. Users can add all products to the cart, and then visitors can finalize the purchase utilizing Single Sign-On and integration with iMIS.
Simplified purchasing journey
Integrated store with iMIS
Improved search capabilities and pricing awareness
Websites consolidation
Then we had to consolidate 70+ micro-sites into one more comprehensive leading CEC site for better brand consistency. It includes 53 units, 18 divisions, a blog website, eCommerce listing, legislative summit, convention, and other CEC websites. We focused our overall consolidation strategy on the key results that generate revenue and promote the brand. We've designed and built an infrastructure to consolidate more than 70 websites into one.
Created a framework for consolidation of 70+ websites
Centralized a content management for 70+ website
Improved CEC brand consistency
Built permissions systems for microsites
Events
Events are one of the pillars in the overall CEC community, so we've designed and implemented events search and microsites framework. We focused on making small and major events accessible, making it an official point of contact for CEC with attendees, and reflecting on what CEC event is all about and the ideologies guiding it. Now attendees can easily register for an event, review an agenda, and find travel, housing, and other information about the event.
Centralized content management for events
Created a framework to create microsites for events
Improved CEC brand consistency
Conclusion
We've launched a stunning website for the Council for Exceptional Children in 5 months, and it was only the beginning of the full digital transformation. In a fantastic partnership, Five Jars contributed to the CEC digital ecosystem's thriving evolution. Successfully executed work and a satisfied client are fundamental to long-term relationships. We're pleased to be the Council for Exceptional Children's digital partner.
Lowered bounce rate from 61% to 53%
Increased page views by a session by 26%
Increased average session time by 21%
Increased number of users by 7%
Increased number of new users by 15%
Increased number of sessions by 33%
The Council for Exceptional Children intended to "redo" our website, but by working with Five Jars we have done so much more — we are now a much stronger, digital-first, member-friendly association. Five Jars came to the table with us ready to learn about CEC and, most importantly, our members before they started down the process of guiding us on our digital makeover. Despite every curveball we threw them with our single sign-on (to multiple platforms), they didn't let those technical nuances hold us back on any of our ideas. Their intense knowledge of Drupal allowed them to guide us in opening doors we didn't even think possible and to ultimately create a much stronger website. When we finally hit our launch date, we were so excited to have the project done. At the same time, because of how Five Jars taught us to think about our web presence, we will continue to engage with them on additional upgrades and features that we couldn't have dreamed about without their help.
© Chad Rummel, Executive Director, Council for Exceptional Children